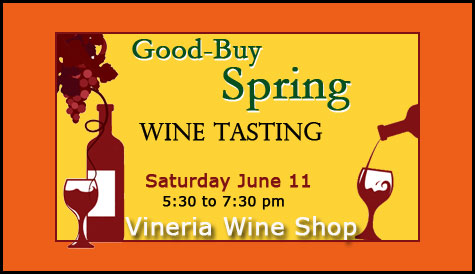 Good-Buy Spring
Wine Tasting
Saturday June 14 5:30 pm to 7:30 pm
What you get: Whites – Reds – Roses!
Cost $25
$10.00 back when you buy 3 or more bottles
of the wines being sampled.

Seated Limited to 28 people.
Buffet of Gourmet Pizzas Included!
For tickets to this event Please go to our Facebook Page and
Purchase the tickets through TicketLeap
Pre-purchase also available at the store.
Ticket(s) are non-refundable.
Thank you!

These are the wines to be sampled on May 14